Why do over 60 million tourists visit Colorado each year? Is it the majestic Rocky Mountains towering over the Colorado plains? The state's wonderland of sports, nature and activities all year long—especially in winter? How about the fact that Colorado gets 300 days of sunshine per year, so after the snow falls the sun is always close behind?
Whatever the reason (and there are many!), students learning English in Colorado have a wide variety of outdoor and indoor entertainment to keep them busy all winter long. Here are seven of our favorite seasonal activities to enjoy while learning English in Colorado:
Spectacular Skiing and Snowboarding
With world-class skiing and snowboarding at over 20 resorts, the obvious favorite winter activity while learning English in Colorado is to "hit the slopes" (slang for "go skiing or snowboarding"). Ski resorts in Colorado offer visitors terrain from easy to extreme, and lessons are readily available. So whatever your level, you'll find the trails—and the stunning mountain views—for which Colorado is famous.
Snow Sledding and Sleigh Rides
In addition to skiing, many resorts offer sledding and tubing hills, often with lifts to pull you back to the top. You can also rent or buy a sled and find a nearby hill to create your own free and fun snow sport. Or— if you're looking for a real winter adventure while learning English in Colorado—opt for a dog-sledding trip through the woods! The slightly less daring can sit back and enjoy the scenery on a horse-drawn sleigh ride.
Luminous Lights on Dark Winter Nights
Over one million colorful lights deck the halls (and plants) at the Denver Botanic Gardens, just a short drive from LCI English school in Denver. Stroll through the elegant glow, enjoying tasty treats and warm drinks. Or check out the winter light safari at Zoo Lights at the Denver Zoo, where you can see more than 150 illuminated animal sculptures and designs in lights—and, of course, real animals too! You can also head downtown for the annual Parade of Lights, complete with floats, bands and views of the spectacularly lit Denver City and County Building.
Ice Excursions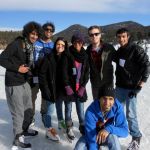 Coloradans take advantage of the ice and snow of their frozen winter playground in every imaginable way. From ice-skating at a rink, to ice fishing on lakes, to climbing frozen waterfalls, to touring ice sculpture gardens—students learning English in Colorado have an array of frosted festivities to choose from. And just two hours from LCI English school in Denver, the Cripple Creek Ice Festival offers ice sculptures, an ice maze, rides and more!
Snowshoeing and Cross-Country Skiing Adventures
Most of the parks that offer hiking trails in the warm seasons also provide snowshoeing and cross-country skiing opportunities during winter. Black Canyon of the Gunnison National Park, for example, closes its South Rim Drive to cars, allowing cross-country skiers free reign. Strap on your gear (rentals are readily available) and head out into the wild winter wonderlands when you learn English in Colorado.
Warm Winter Activities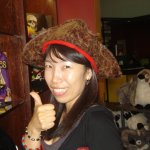 Not in the mood for the cold? Not to worry! Colorado offers an array of warm and cozy entertainment. Stay inside and enjoy Denver's many malls, museums and theaters when you learn English in Colorado. During the holiday season, the Denver Center for the Performing Arts features such classics as "The Santaland Diaries," "How the Grinch Stole Christmas," and "The Nutcracker," if you'd like to catch a wintry performance.
Fun in the Sun
Because of the regular sun and pleasant weather, many outdoor venues such as tennis courts, golf courses and hiking trails stay open all year-round! Snow melts quickly with all that sunshine, so you may find yourself playing tennis in the same park you were sledding in yesterday. Students learning English in Colorado can also stay toasty while still enjoying the outdoors by taking a trip to one of the state's 27 hot springs.