Summer is hot in Houston, and we mean more than just the weather! Here's a list of some of our favorite activities to help you enjoy the heat (or escape it) when you study English in Houston in the summer.
Hot Nightlife & Live Music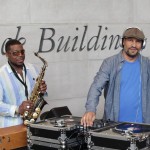 H-town is a hotspot for live music—be it festivals, national performers or local acts, there are always tunes to enjoy. The Houston Symphony performs free community concerts around town throughout the summer, and the city has several large outdoor venues featuring your favorite artists from around the world.
For a more intimate music scene while you're studying English in Houston, check out the dozens of bars and lounges around town with musical offerings for every taste.
Beaches & Boardwalks
Even with all the nightlife, shopping and culture, one of the best things about Houston is its proximity to the beaches and charm of the Gulf Coast.
Less than 100 miles (160 km) from the city, the white-sand beaches of Galveston Island provide a great weekend trip for students studying English in Houston. Check out Kemah Boardwalk on your way out of town, a classic waterfront amusement park featuring fireworks on Friday nights in the summer.
Water Fun & Wake Boards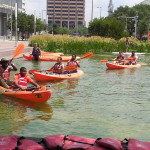 Don't have time for a getaway? You don't have to leave town to cool off while you're studying English in Houston this summer! Take a kayak or stand-up paddle board out on Kinder Lake, at Discovery Green in the heart of Houston. The park also hosts the Maravilloso circus each summer, featuring beautiful dance performances on the lake.
Or visit Wake Nation, a water adventure park where you can water ski or wake board—without a boat! Wake Nation is located on a 12-acre lake just a half hour drive from LCI English school in Houston.
Summer Sports
On July 1, Houston will host the Mexico national soccer team as they take on Honduras in the 2015 Gold Cup! In addition to international tournaments, Houston is also home to the two-time MLS (Major League Soccer) champion Dynamos, so there's always a match to catch.
If you're in the mood for the all-American pastime while studying English in Houston in the summer, watch the Houston Astros baseball team light up the night at Minute Maid Park—the stadium has a retractable roof so there's always a game, rain or shine!
Indoor (and Underground!) Activities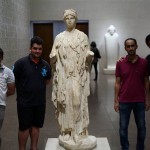 Beat the heat in one of Houston's world-class museums. The Museum District, with 19 museums in four walkable zones (and home to LCI Houston), features great options to hide out in air-conditioned bliss when you're studying English in Houston.
Or check out the city's variety of indoor shopping options, including the famous Galleria Mall. Houston even has an underground tunnel system—over six miles (9.7 km), lined with shops and restaurants, connecting office buildings around town!